________________________________
Karate (empty hand), including Shido-kan Shorin-ryu, originated on the island of Okinawa. Okinawa Prefecture consists of over 57 islands located between the Philippine Sea and East China Sea. The main island of Okinawa is the nucleus where the prefectural capital, Naha City, is located. Among the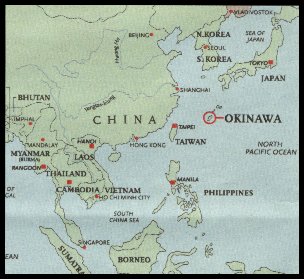 major Asian cities within close proximity are Taipei, Shanghai, Hong Kong, Seoul, Manila and Tokyo.

* * *
At KARATE STL we teach traditional karate as the art of weaponless self-defense from which a student may acquire confidence and physical expertise, while having fun. There is neither intimidation nor hostility.

Since karate is stressed as a martial art rather than a competitive sport, much emphasis is placed on kata, the "heart of the art," and blocking, kicking and striking skills, the learning of which is necessary for promotions to higher ranks. Kata (or forms) are specific patterns of movement which combine various techniques of defense and offense in a rhythmic sequence. They are the foundation from which the student assembles concentration, power, speed, balance and control. Because the philosophy of this style is now based on peace and self-control, each action begins with a defense maneuver, followed by offense only if necessary. Kata are performed solo. However after attaining reasonable proficiency, the student applies the kata with three or four partners (bunkai).

Another training method is prearranged sparring (kumite) which enhances timing, reflexes and throwing (take-down) skills. At the more advanced levels, students engage in carefully monitored and regulated free sparring with emphasis on control as well as respect for, learning from and helping each other. The striking board (makiwara) and kicking/punching bag are also utilized to condition and strengthen the body. Board breaking is learned, as well, but rather than a specific goal itself, it is more a peripheral benefit -- a manifestation of the strength and focus that can be accomplished as a result of karate training.

The purpose of training in karate, therefore, is not just the cultivation and delivery of power. Anyone can develop and train his or her body. But to learn to channel and control that power and use it effectively, efficiently and with good judgment is the true art of karate.

Dojo Manners and Rules | Karate Creed
(To top of page)
ESTEEMED MASTERS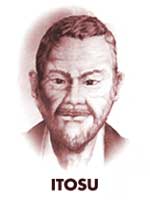 Grand Master CHOSHIN CHIBANA, Hanshi, 10th Dan (1885-1969), born June 5, in Torihori Village, Shuri City, Okinawa, began training in 1900 at the age of 15 with Yasutsune "Anko" Itosu. Itosu is considered the Father of Okinawan Karate and is the first person responsible for publicly teaching the art. Chibana was the originator of Okinawan shorin-ryu, loosely translated as "small forest style" or "pine forest style." He also formed the Okinawa Shorin-ryu Karate-do Association in 1950 and was its first president. Among Chibana's many awards was the Kunyonto (4th) Order of the Sacred Treasure presented by the Emperor of Japan, Hirohito, for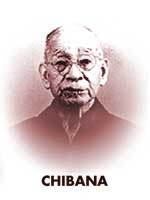 his devotion to the study and practice of Okinawan karate-do. He taught almost until the time he died of cancer at the advanced age of 83. Most senior student of Grand Master Chibana is Katsuya Miyahira.

Grand Master KATSUYA MIYAHIRA Hanshi, who holds the highest rank of 10th Dan, was born on August 8, 1918 in Kaneku Village, Nishihara City, Okinawa...and, sadly, died on November 29, 2010 in Naha, Okinawa, Japan, at age 92. He started his training with Chibana Sensei at age 15. In 1937, Miyahira worked as a school teacher in Manchuria and taught self-defense. He opened a dojo in Kanehisa, Nishihara, in 1948 naming it "Shido-kan." After Chibana's death in 1969, Miyahira became the President of the Okinawa Shorin-ryu Karate-do Association. Miyahira was presented with the 1989 Martial Arts Distinguished Service Award (the highest honor of its kind in the world of Japanese martial arts) by the president of the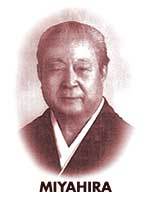 Japan Martial Arts Council. Among Miyahira's major contributions has been the introduction of obligatory analytical exercises (bunkai) for each of the kata, and the deepening of the philosophical study of karate-do. Most senior student of Grand Master Miyahira is Seikichi Iha.

KARATE STL is under the direction of world-renowned Head Master SEIKICHI IHA, Hanshi, 10th Dan. He is Katsuya Miyahira's most senior student, United States Branch Chief for the Okinawa Shorin-ryu Karate-do Association, and the director of the Beikoku (North American) Shido-kan Karate-do Association. A "teacher of teachers," Iha is the highest ranking Okinawan master residing in the United States.

Iha was born in Tanahara Village, Nishihara City, Okinawa Prefecture on July 9, 1932. He began karate training under his uncle but in 1950 he was accepted as a formal student of Shinpan Gusukuma who had been a student of the famous Anko Itosu. For four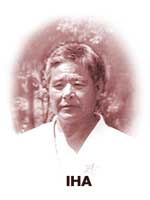 years Iha trained with Gusukuma who was a well respected authority of Shuri-te. After Gusukuma's death in 1954, Iha was introduced to his next teacher by his good friend, Shoei Miyazato. Iha was accepted as a student of Miyahira shortly thereafter.

Iha taught for periods of time in Guam, the Philippines, and Okinawa (during the latter part of 1964 he began training U.S. Marines stationed at Futenma, Okinawa). In 1967 Iha was sent to Los Angeles, California where he taught until 1975. He moved in 1975 to Lansing, Michigan, where he has resided and taught ever since.

March 25, 2001, Iha received the title of Hanshi 10th Dan from Katsuya Miyahira. The following July, upon the announcement of Iha's promotion, the reaction was an immensely enthusiastic standing ovation of friends, family and several hundred of his students who were present at the Beikoku Shido-kan Karate-do 25th Anniversary Celebration in East Lansing, Michigan. Iha's rank is certified by the Okinawa Shorin-ryu Karate-do Association, Okinawa, Japan.

Iha Sensei focuses on spreading and cultivating the knowledge of Shido-kan Shorin-ryu Karate-do as the ultimate art of self-defense, throughout the United States and the world. A primary goal is to harmoniously work with all styles of Okinawan karate to provide the general public with a solid understanding and appreciation of this important cultural art. He frequently tells his students, "Friendship and mutual cooperation are the most important parts of karate."
(To top of page)
KARATE STL HEAD INSTRUCTOR
SHARON A. BASINGER (left), a certified instructor, has been training in this style

of karate since 1989 and has attained the internationally certified title and rank of Shihan 6th Dan (degree of black belt). She and her late husband R. Gordon Basinger* (7/11/40 - 12/27/02) trained and advanced through the ranks together initially in Dallas, Texas, until 1995 when they returned home to St. Louis and opened their own dojo. In October 2000, Karate STL was elevated from Fuku Shibu dojo and awarded the certification of Shibu Dojo, i.e. directly under the supervision and teaching of Head Master Seikichi Iha, Hanshi 10th Dan, of Hombu Dojo in Lansing, Michigan.

KARATE STL is the only Shibu dojo in the state of Missouri certified by Iha Hanshi, and recognized by the Beikoku Shido-kan Karate-do Association and the Okinawa Shorin-ryu Karate-do Association. The only certified and recognized Missouri Fuku Shibu dojo is Karate STL's branch dojo, The Arch Shido-kan Karate, Ameer Syed, Sensei 3rd Dan instructor. Basinger Sensei has been head instructor at Karate STL since its inception in 1995. Her students' age range is 4 to 74.

She has also previously studied judo, and other styles of karate in the St. Louis area. She and her husband ultimately concluded that Traditional Okinawan Shido-kan Shorin-ryu Karate-do not only promised but also provided the authentic training and philosophy they had been seeking all along.

Basinger feels extremely privileged and honored to have received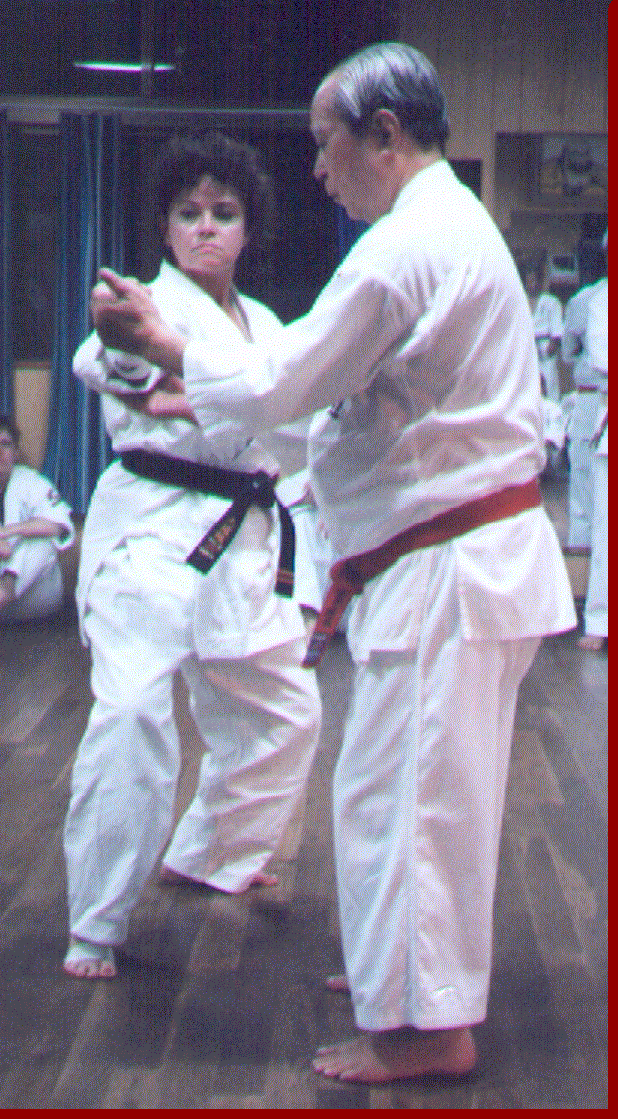 karate instruction from the late Grand Master Katsuya Miyahira, Hanshi 10th Dan, in Lansing, Michigan in 1996, as well as at his dojo (right) while she was in Naha City competing in the 1997 Okinawa Karate & Kobudo World Tournament where she reached the finals in her division. The televised tournament celebrated the inaugural commemoration and grand opening of the enormous Okinawa Kenritsu Budokan (Okinawa Prefectural Hall of Martial Arts -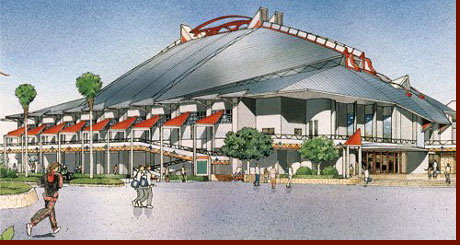 left). Participating in the government-sponsored event were over 2,000 competitors from 50 countries. She again traveled to Okinawa for the 2009 Okinawa Traditional Karate-do World Tournament and Seminars where she was privileged to... perform in the opening ceremony demonstrations with fellow Shido-kan karate-ka representing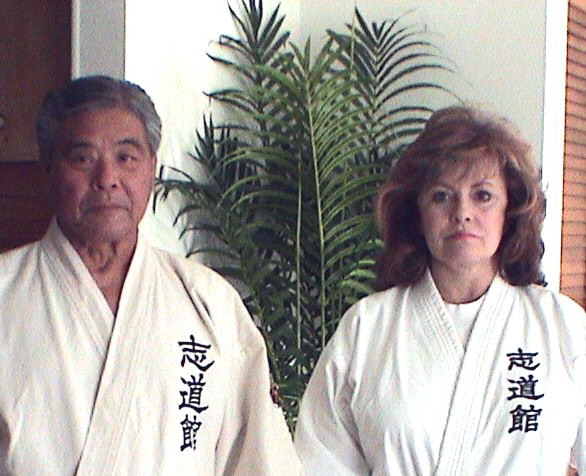 Basinger is particularly fortunate to continually have numerous and frequent opportunities to study with (right). The priceless benefits of this training are then brought back to her students. In addition, Iha Sensei conducts karate training seminars in St. Louis at Karate STL, once or twice a year.

Among Basinger's previous careers: Licensed Missouri real estate broker (commercial property acquisitions with a public fund real estate syndication firm); commercial and multi-family residential property manager in St. Louis, Missouri; interior remodeler/designer for commercial offices in Dallas, Texas.
* Further information and news article on Mr. Basinger.
(To top of page)



KARATE STL black belts are Ameer Syed (top right), Sensei 3rd Dan, Stephanie Faulkingham (second right), Sensei 3rd Dan, and Tony Bui (third right), 3rd Dan; George Fortier (not pictured), 2nd Dan; Kevin Queen (fourth right), Glenda and Bryan Petrofsky (not pictured) and Kristina Carpenter (bottom right), 1st Dan.

Junior Black Belts are Krystal Carpenter, Tawni Miranda, Laura Jenkins and Candice Turner. As a supplement to their training, these dedicated students also travel when possible with Basinger Sensei to Lansing, Michigan, for even further instruction from

direction of

CHRONOLOGY OF KARATE STL

October 7, 1995 - Six months after returning to St. Louis (after living 11 years in Dallas, TX) Sharon and Gordon Basinger Senseis held a Men & Women's Self-defense seminar at Westport Athletic Club located in St. Louis County, Maryland Heights, Missouri, to determine if there was sufficient local interest to warrant opening a dojo. Only 5 people enrolled; however, the Basingers were not deterred.

October 11, 1995 - Authorized and sanctioned by Head Master Seikichi Iha, the Basingers opened their Shido-kan dojo at Westport Athletic Club. In the first 12-week session, a total enrollment of 23 students (15 adults in Wednesday/Saturday classes, and 8 children age 7-11 in the Saturday class).

September 17, 1996 - Pattonville School District designated Sharon Basinger as its karate instructor. A total of 14 students (10 children age 7-11, and 4 adults) enrolled in the first Tuesday/Thursday 6-week session at Pattonville Heights Middle School, Maryland Heights, Missouri.

October 29, 1996 - Basinger Sensei held her first 3-hour Women's Self-defense seminar at Pattonville Learning Center, St. Ann, Missouri. There were 7 women enrolled.
(To top of page)

September 17, 1998 - Basinger Sensei began teaching karate to children age 4-6 at Pattonville Heights. 31 were enrolled.

August 25, 2000 - Last karate class at Westport Athletic Club. Shortly thereafter, WAC closed permanently.

October 22, 2000 - Karate STL was elevated from Fuku Shibu to Shibu dojo status, by Head Master

October 1, 2001 - At their request, Karate STL's Director and Head Instructor,

January 16, 2002 - Basinger Sensei began teaching karate to children age 4-6 at Maryland Heights Centre. 10 were enrolled in her first class.
(To top of page)

August 12, 2002 - In addition to

Basinger

Sensei's children's karate classes, the City of Maryland Heights

decided to also implement karate classes for adults

at Maryland Heights Centre.

December 27, 2002 - Karate STL's Gordon Basinger* at age 62, died of complications from cancer.

January, 2003 - After taking some time off due to her husband's death, Basinger Sensei resumed her position as Karate STL Director and Head Instructor, and continues to hold karate class four to five days per week, as well as conduct periodic self-defense seminars, for Pattonville School District and the City of Maryland Heights.

January 29, 2005 - Upon the recommendation of Jennifer Barnes Van Dyck, who had recently attended a Pattonville School District Women's Self-defense seminar, the City of Maryland Heights held its first such seminar at Maryland Heights Centre. Both seminars were conducted by

November, 2005 - Even though Basinger Sensei continued with teaching, supervision and rank testing, as Stephanie Faulkingham advanced in rank and became more experienced, Basinger Sensei offered her progressively more teaching opportunities over the years at the Maryland Heights Centre location in order to further her training.
(To top of page)

September 22, 2007 - Karate STL held its first 3-hour Youth Self-defense seminar at Maryland Heights Centre. Basinger Sensei and her assistants taught a class of 13 children ages 8-14.

September 19, 2009 - Karate STL offered its first age 4-7 'stranger danger' seminar at Maryland Heights Centre. 10 children were enrolled with 7 on the waiting list. The well-received 2-hour class is called Don't Talk To That Stranger.

January 26, 2010 - Basinger Sensei and her assistants began conducting after-school youth self-defense seminars (separately for groups of kindergarten through 2nd grade, and grades 3 through 5) the first of which was held at Pattonville School District's Willow Brook School in Creve Coeur, Missouri.

August 1, 2010 - Karate STL's first annual family picnic at Vago Park in Maryland Heights, Missouri. About 60 students and their families turned out for an afternoon of summer fun.
(To top of page)

November 13, 2010 - The 15th anniversary of Karate STL was celebrated at Pattonville Heights Middle School gym in Maryland Heights, Missouri. There was an elaborate student demonstration consisting of 50+ students from both locations, and 100+ spectators. Head Master Seikichi Iha, Hanshi 10th Dan, as well as some out-of-town guests, were in attendance. (Click here for more info.)

June 13, 2011 - Karate STL held its first afternoon week-long (1½ hours per day) youth self-defense seminar for kindergarten through 5th grade at Pattonville School District's Drummond Elementary School in St. Ann, Missouri. Basinger Sensei and her assistants taught a class of 7 children.

September 10, 2011 - Karate STL's first St. Louis area branch dojo The Arch Shido-kan Karate was opened in St. Peters, Missouri. Classes are held within Club Fitness. Instructor is Basinger Sensei's student, Ameer Syed, Sensei 3rd Dan. He began his training at Karate STL in June of 2003, and over the years taught and assisted in progressively more karate classes. He eventually advanced in rank and experience in preparation to become instructor at his own branch dojo.

October, 2013 - The Arch Shido-kan Karate, Ameer Syed, Sensei 3rd Dan, Instructor, was elevated from probationary to certified Fuku Shibu dojo by Seikichi Iha, Hanshi 10th Dan. Fuku Shibu dojos are under the direct supervision of their Shibu dojo director.

January 13, 2014 - Karate STL's second St. Louis area branch dojo, Gateway Shido-kan Karate reopened at Maryland Heights Centre in Maryland Heights, Missouri - originally Karate STL's second training location. Instructor is Basinger Sensei's student, Stephanie Faulkingham, Sensei 3rd Dan, who began her training at Karate STL in November of 2003. Since November, 2005, Basinger Sensei entrusted her with progressively more teaching responsibilities at this location, as she advanced in rank and experience in preparation for this transition to become instructor at her own branch dojo.

January 20, 2014 - Karate STL entered the world of social networking. Our dojo page can be accessed here:

* Further information and news article on Mr. Basinger.
(To top of page)

THE DOJO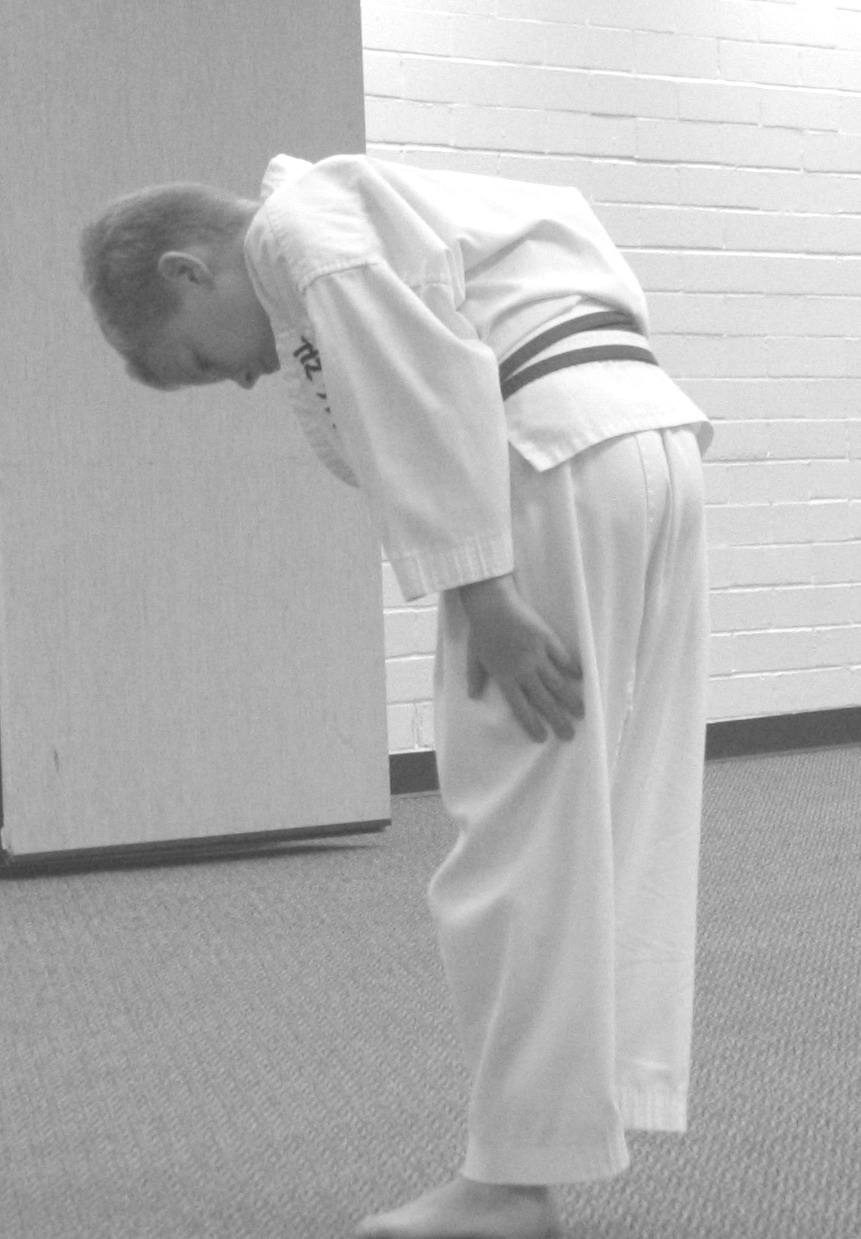 The dojo is traditionally known as a school or training area where students are instructed in a path which leads to self-realization. The dojo is a hall of mental as well as physical training and is treated with particular respect and veneration by all karate students -- one always bows when entering or leaving it. The karate dojo is no ordinary place of exercise. It is the place where the sensei (teacher) and serious student strive to cultivate their minds toward perfection of the human spirit.


AFFILIATED DOJOS
In addition to Karate STL and the many other dojos in the United States (including Alaska) and Okinawa, there are dojos elsewhere affiliated with Shido-kan Shorin-ryu Karate-do, among which include Argentina, Brazil, Canada, Colombia, France, Germany, Greece, Guam, Israel, mainland Japan, Philippines, Russia, Sweden and Switzerland. For more information, see Dojo Locator or Links.

Dojo Manners and Rules | When to Bow | Karate Creed | Aims of Karate-do
(To top of page)